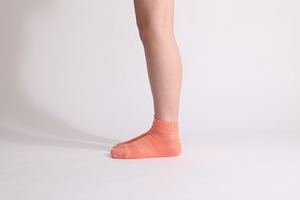 Cotton Hemp Ankle Socks(Orange)
NODAL
Cotton Hemp Ankle Socks


豊富なカラーバリエーションのコットンヘンプアンクルソックス。
インド産のオーガニックコットンを毛羽立ちにくいように紡績した糸と、ヘンプ を混紡した糸を双糸にして編みました。
ヘンプには吸水速乾性や天然の抗菌機能性があり、足の不快感を回避してくれます。
甲部分はメッシュ編みで通気性がよく、サポートゴムを入れることで足にフィットしやすい設計 です。
足底はパイル編みにすることでクッション性があり、耐久性も高くなっています。
ヘンプ特有のドライなタッチ感とコットンの素朴な質感を良いバランスで体感できる春夏に最適な1 足です。

-Color-
Smoke Green
Yellow
Gray
Orange
White
Turquoise
Purple
Navy

-Size-
23cm-27cm

-Length-
7cm

-Body-
Cotton/Hemp/Polyester/Polyurethane

MADE IN JAPAN.
*Tax included.
*Additional shipping charges may apply, See detail..

About shipping fees
The shipping fee for this item varies by the shipping method.
佐川急便

Shipping Fees are the same all over country inside Japan ¥700
*Japan domestic shipping fees for purchases over ¥8,000 will be free.