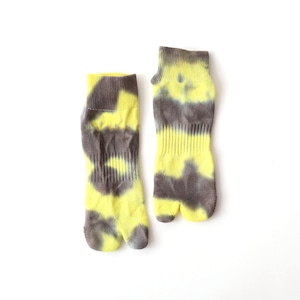 Tie Dye Ankle Socks (Yellow × Charcoal)
上質な綿コーマ糸で編み立てたアンクルソックス。
1足ずつ職人の手作業によるタイダイ染めを施しています。
鮮やかな柄がスタイリングのアクセントになる1足です。
足底はパイル編み仕様でクッション性を持たせました。
土踏まずにはサポートゴムを編み込み、より足にフィットしやすい設計です。

※色止め処理を施しておりますが、最初の数回は単独でのお洗濯を推奨いたします。



-Color-
Light Blue × Red
Light Gray × Green
Camel × Cream
Orange × Blue
<<NEW>>
Pink × Navy
Yellow × Charcoal
Blue × Navy
Light Gray × Charcoal


-Body-
Cotton/Nylon/Polyurethane

-Size-
FREE(23-27cm)

-length-
8㎝

MADE IN JAPAN.
*Tax included.
*Additional shipping charges may apply, See detail..

About shipping fees
The shipping fee for this item varies by the shipping method.
佐川急便

Shipping Fees are the same all over country inside Japan ¥700
*Japan domestic shipping fees for purchases over ¥8,000 will be free.